A web app lets your customers and collaborators work directly with you, without having to visit your office.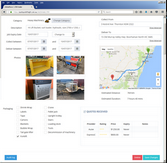 Most business processes that can performed on your desktop PC, laptop or back-office server can be automated in a web app. A web app can also let you do things you couldn't do before. For example, your customers could manage their own data in your system, or cooperate with each other, or obtain automatic services without having to call a person in your office.
Here's a flavour of the variety of ways that a web app can transform your business:
Customers and service providers come together to trade.
Provide automated advice to potential customers.
Task responsibility is distributed among many staff members, and reports are available centrally to management.
Staff in diverse locations work together on individual and common projects.