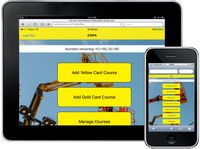 A mobile app lets you and your staff work anywhere — on site, on the road, at home, in the park, anywhere. If you've got your phone or tablet with you, you can get things done.
Maybe your work is mobile by nature, or maybe you just want to give your staff the freedom to mesh work with other tasks, such as when they're on the train or waiting for the kids.
Here are some of the ways our customers are more efficient with a mobile app:
Trainers accredited by an industry licensing body submit licence applications on behalf of candidates immediately on course completion.
Building inspectors, pest inspectors and strata managers conduct inspections on-site and produce condition reports automatically.
Mobile staff of a busy clerical practice browse, search and view content archived in Dropbox. Archived files contain proprietary data that Dropbox doesn't understand.
Agents of a nationwide brokerage gather data in the field, and produce business documents semi-automatically.
Some things to consider when you have a mobile app made:
Will your app be available to the public, or just to a private group of staff, suppliers and customers?
Do you need to take credit card payments?
What parts of your business process must be performed on a mobile device? You might not want to do everything on your phone.
How will it integrate with other apps and web sites?
Can you continue to work even when you're out of mobile phone coverage? This is commonly called offline mode.