A desktop app is software that you install on your PC or laptop.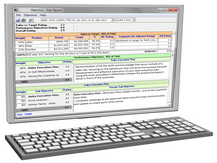 Your app could be a self-contained stand-alone app, or it could integrate with other apps that you already use, such as Microsoft Excel, Word or Outlook. A desktop app can also integrate with cloud or mobile apps such as Dropbox, Sharepoint, Salesforce, Workflow Max, your CRM or document management system. Basically if the cloud app has an API then we can integrate your new app with it.
Here's a short list of some desktop apps we've built for our varied customers.
Objectives management for a large pharmaceutical company. Integrates with enterprise systems.
Document generator for a building inspector. Produces condition reports automatically in Microsoft Word; integrates with his mobile inspection app.
Demand planning for a pharmaceutical company. Integrates with warehousing, shipping and ordering systems.
Nutrition monitoring for aged care.
Training scheduling and reporting for a compliance office. Integrates with Microsoft Outlook to set calendar appointments automatically and send course invitations by email.
Automatic email archiving for a bookkeeping firm. Integrates with Microsoft Outlook and Dropbox.